Loading...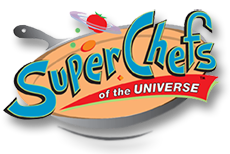 Loading some cool stuff... Please wait...
Join us for some SUMMER FUN!
Your child is a suitable candidate for joining SuperChefs Virtual Summer Camp 2021! Dr. Greg's SuperChefs Cookery for Kids is a non-profit organization designed to teach kids, aged 8-12, the fundamentals of healthy living through free camps featuring cooking classes, nutrition lessons, oral health lessons, and physical activities as well. SuperChefs has also made its mark globally through partners such as Westin Hotels & Resorts through their Eat Well Menu for Kids.
WHAT'S
SUPERCHEFS

?

The SuperChefs Cookery empowers children in the battle against childhood obesity by teaching the essentials of balanced nutrition, food preparation, and social etiquette toward inspiring lifelong habits of physical and social well-being. Under the direction of world class professional chefs and educators, students learn in an enriched setting focussed upon the joy of cooking while engaging in a residential program featuring team-building, athletic and artistic pursuits.
recent video
Onigirazu - How to Cook Tutorial
Go to our events page to check out Making Pizza With Pizza Champion Chef Giuseppe Cortinovis
GET IN TOUCH
Please drop us a line and join us in the fun!
For SuperChefs' free summer camps on Zoom, puppet teaches Surrey kids about cooking

Surrey's SuperChefs Cookery for Kids returns with another summer of free camps that feature cooking classes, nutrition lessons, and physical activities.

SuperChefs Spring Break Pizza Contest

We hope you and your family are doing well during these times. As we enter into Spring Break this week, you and your family are invited to partake in our Spring Break Pizza Contest this year!

Holidays Newsletter from SuperChefs

Happy Holidays! Joyeux Noël! Feliz Navidad! Buon Natale! Frohe Weinachten!

Holiday Recipe Book

Download Dr. Greg's SuperChefs Holiday Recipe Book today!

Creating a SuperChefs Holiday Kit

To help brighten the spirits of those affected by the COVID-19 crisis, Superchefs has created an exciting new mission this holiday season! We have partnered with national, regional and local community organizations to create a SuperChefs holiday kit to continue our mission to help educate youth about where their food comes from and help build their kitchen skills to promote a healthier generation.

SuperChefs Year End Summary Report

Here's a report on our successful COVID Summer 2020 Program
---