Loading...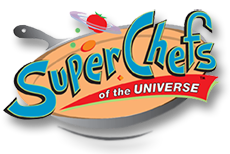 Loading some cool stuff... Please wait...
WHAT'S
SUPERCHEFS

?

The SuperChefs Cookery empowers children in the battle against childhood obesity by teaching the essentials of balanced nutrition, food preparation, and social etiquette toward inspiring lifelong habits of physical and social well-being. Under the direction of world class professional chefs and educators, students learn in an enriched setting focussed upon the joy of cooking while engaging in a residential program featuring team-building, athletic and artistic pursuits.
recent video
SuperChefs 10 Year Celebration Evolution
September 19, 2018
GET IN TOUCH
Please drop us a line and join us in the fun!
SuperChefs Cookbook of Recipes

Complete recipes for 15 delicious meals and desserts

SuperChefs News Spring 2019

Another fun filled SuperChefs Cookery Camp summer is in the works July 2 to August 16 to train students to be community minded advocates for healthy living while offering free camps to at risk and Special Needs children in the Surrey School District this summer- details Page 5!

Dr. Greg Chang Receives a 2018-2019 UBC Alumni Builder Award

Congratulations to Greg Chang DMD 1986 who was awarded a 2018-2019 Alumni Builder Award.

SuperChefs helping children and young professionals develop life skills

You might have seen them on Global News, or in the Vancouver Sun. Perhaps if you were south of the border, you even read about them in USA Today or the New York Times. Yes, the growth of Superchefs – a non-profit organization that aims to transform eating habits of children while promoting a healthy lifestyle – has reached international status since it was founded by Dr. Greg Chang ten years ago.

SuperChefs News Fall 2018

Great party held at Surrey City Hall to celebrate SuperChefs 10 Years making a difference!

Olympian Patrick Chan helps Surrey's 'SuperChefs' celebrate 10th anniversary

In Surrey, SuperChefs teamed up with Olympic gold-medalist Patrick Chan to spread a message of healthy eating and teaching kids to have a healthy relationship with what they put in their mouths.
---