Loading...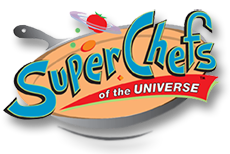 Loading some cool stuff... Please wait...
Exciting News from SuperChefs!
We have heard from requests from all over the world how to participate in our award winning SuperChefs Cookery program, and have now developed a new E-learning experience with downloadable lesson plans so everyone can enjoy SuperChefs in the comfort of your own home! Inspired from our successful Summer Virtual Camps in 2020 & 2021 during the Covid-19 epidemic, this will provide kids and families a fun way to learn kitchen skills and tasty recipes from our SuperChefs Team!
WHAT'S
SUPERCHEFS

?

The SuperChefs Cookery empowers children in the battle against childhood obesity by teaching the essentials of balanced nutrition, food preparation, and social etiquette toward inspiring lifelong habits of physical and social well-being. Under the direction of world class professional chefs and educators, students learn in an enriched setting focussed upon the joy of cooking while engaging in a residential program featuring team-building, athletic and artistic pursuits.
recent video
Onigirazu - How to Cook Tutorial
Go to our events page to check out Making Pizza With Pizza Champion Chef Giuseppe Cortinovis
GET IN TOUCH
Please drop us a line and join us in the fun!
Creating a Special Space... In the Kitchen!

When Dr. Greg Chang, the Founder of SuperChefs was a child, he remembered how his mother taught cooking classes in their family home to neighbors wanting to learn Chinese cooking techniques. Seeing this excitement in the kitchen brought joy and instilled a passion to share this love of food with others, as well as be involved with health and fun development, as his father was a caring physician with an engaging sense of humor.

Giving Back: Q+A with Greg Chang

Greg Chang is the CEO of SuperChefs Cookery for Kids, a non-profit cooking program offered to schools, community centres, resorts, summer camps and culinary events across North America.

SuperChefs Cookery For Kids Summer Report 2021

Last year, the COVID-19 pandemic caused a dramatic shift in the way we delivered our hands-on SuperChefs Cookery program to our young and enthusiastic chefs. Despite the progress in B.C.'s COVID-19 reopening plan, we made the decision to deliver camps virtually again in 2021.

Safety in the Kitchen

Dr. Greg and Lily demonstrate how safely navigate a kitchen.

Vegetable Frittata

Travel with Lily and Dr. Greg to Venice, Italy (sort of) to make a vegetable frittata!

Thai Red Curry

Lily "makes" a new friend to help with Dr. Greg's Thai red curry recipe!
---