Loading...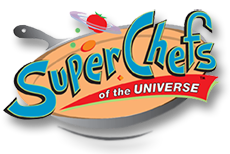 Loading some cool stuff... Please wait...
SuperChefs Celebrates our 15 Year Anniversary!
Although 2022 was a terrific summer as we welcomed live SuperChefs camps in Surrey post-COVID, we look forward to celebrating our 15th Year of SuperChefs camps and events and invite you all to join us! Not only will camps resume at the start of July and run throughout August, we will host a 15 Year SuperChefs Cookery Celebration at the Jim Pattison Theatre at Pacific Academy in Fraser Heights in Surrey! Come join us for a night of entertainment, food and fun that SuperChefs is famous for! More details to come!
WHAT'S
SUPERCHEFS

?

The SuperChefs Cookery program uses the power of education, fun, connection, and cooking to engage and empower kids to explore food and nutrition. SuperChefs aims to help kids build healthy relationships with food and their bodies, learn lifelong cooking skills, and increase their food literacy all through instilling curiosity and exploration.
recent video
SuperChefs and Surrey Christmas Bureau partners to provide holiday baking kits for Surrey families
Go to our events page to check out Making Pizza With Pizza Champion Chef Giuseppe Cortinovis
GET IN TOUCH
Please drop us a line and join us in the fun!
SuperChefs and Surrey Christmas Bureau partners to provide holiday baking kits for Surrey families

This Christmas season, SuperChefs again provided holiday baking and decorating kits to families registered with the Surrey Christmas Bureau.

'Terrifying' inflation sees demand surge at Surrey Christmas Bureau's Toy Depot, in Whalley

'Right now we're in a crunch for toys,' executive director says as donation drives get going

SuperChefs Live Camps are Back!

Participants chosen through the Surrey School District (SD36). Please check back again later

Creating a Special Space... In the Kitchen!

When Dr. Greg Chang, the Founder of SuperChefs was a child, he remembered how his mother taught cooking classes in their family home to neighbors wanting to learn Chinese cooking techniques. Seeing this excitement in the kitchen brought joy and instilled a passion to share this love of food with others, as well as be involved with health and fun development, as his father was a caring physician with an engaging sense of humor.

Giving Back: Q+A with Greg Chang

Greg Chang is the CEO of SuperChefs Cookery for Kids, a non-profit cooking program offered to schools, community centres, resorts, summer camps and culinary events across North America.

SuperChefs Cookery For Kids Summer Report 2021

Last year, the COVID-19 pandemic caused a dramatic shift in the way we delivered our hands-on SuperChefs Cookery program to our young and enthusiastic chefs. Despite the progress in B.C.'s COVID-19 reopening plan, we made the decision to deliver camps virtually again in 2021.
---