Children in the East Valley all smiles thanks to Give Kids A Smile
---
Date Posted: February 11, 2015
Source: Health2Fit
A.T. Still University's Arizona School of Dentistry & Oral Health, in partnership with the Arizona Dental Foundation, American Dental Association, SuperChefs Cookery for Kids and EVIT (East Valley Institute of Technology) hosted its 10th annual Give Kids A Smile (GKAS) event Friday, Feb. 6, 2015.
---
---
Over 500 children in need of dental care from Mesa, Chandler, Gilbert and Apache Junction schools will benefited from an assortment of free services at the school's dental
clinic from 8 a.m. until 1 p.m. including dental services, engaging nutritional activities, hands on cooking skills and interaction with familiar costumed characters.
Dental services were provided by A.T. Still University dental students, faculty members as well as volunteer community dentists and included cleanings, sealants, fillings and extractions. Nutritional and cooking activities were provided by SuperChefs Cookery for Kids, as well as students from East Valley Instititute of Technology.
Give Kids A Smile is a national program that was launched in 2003 by the American Dental Association.
This paved the way for dentists across the country to join forces with their community to provide dental care at no charge for children in need. The biggest Give Kids A Smile event in 2015 also was able to focus on prevention, good eating habits and engaging kids in participatory cooking activities to encourage healthy eating at home through SuperChefs.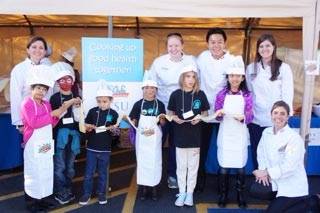 For more information, please visit
this website
.